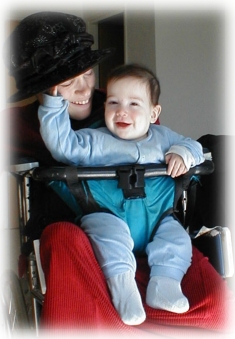 Greetings! Welcome to Parents with Disabilities Online! We've been providing information, support and resources to parents with disabilities since 1996, when our own daughter was first born. She's growing up, and so is this site! We're undergoing a major transition at the moment that we hope will make the site easier to navigate and maintain. Please be patient while we rebuild the site.
For too long, people with disabilities had been told that having families of our own was not an option. The truth is, though, that we have always been parents, and as our society evolves, more and more of us will have access to that opportunity. If you are a parent with a disability, a person with a disability who is planning to become a parent, or a nondisabled partner of a disabled parent, this site is for you. We hope that this page is a good place to start on your own journey toward independent parenting.
Did You Know…
…that in the United States alone, more than 8 million families include at least one parent that has a disability? Millions more exist worldwide, and our numbers are steadily increasing.
We believe that the best source of knowledge on parenting is parents themselves. The same holds true for parents with disabilities, and our primary goal is to give parents an opportunity to share ideas and learn from each other. Much of the information on this site comes straight from the source–the parents with disabilities who are living their lives and successfully raising their children. Please do stop by often, as we are constantly adding information as we become aware of the resources that are available.
Take a look around–there's lots of stuff to explore and new ideas to consider! This page is continually growing, and we always welcome new resources and suggestions! Feel free to read and learn, or to contribute your stories… and don't forget to leave us your feedback on the way out!!
Let your journey begin…
Average Rating:
5
out of
5
based on
236
user reviews.